Sports Premium
In 2016, primary schools are receiving a Sports Premium to enable PE and sports to be developed. Like the Pupil Premium, information about how this funding is spent must be publicised to the school community and it must be spent on coaching, teaching or training.
Home Farm's Sports Premium payment is £8,000 plus £5 per pupil. This means we will have £9050 to spend.
We are using the funding in two main areas:
We are providing subsidised after school sports clubs in football, rugby and netball, led by professional specialist coaches. Added to our existing provision, these clubs will enable as wide a range of pupils as possible to receive high-quality coaching and will help us to take part in sports locally at a higher level

We are funding specialist coaches from Colchester United and Philip Morant School to work with our teaching staff during curriculum time. This means that our pupils will receive high quality coaching in areas such as gym, athletics, football, netball and rugby. This approach will also help us to build the capacity and skills of our teaching staff so that we can ensure there is a long-lasting legacy after the Sports Premium funding has ended.
At the moment, we have committed the following amounts to these two areas:
| | |
| --- | --- |
| Activity | Amounts |
| Provision of high quality subsidised after school sports coaching and coaching during curriculum time by Philip Morant School staff | £4320 |
| Provision of high quality subsidised after school sports coaching and coaching during curriculum time by Colchester United coaches | £2880 |
How do we measure our success?
We monitor the success of our spending in this area using a number of factors including our participation in competitive school sports, how well we work in partnership with others, and how well we link our PE with other aspects of the curriculum. We also measure success on the basis of improvements in provision and participation.
In Autumn 2014, we provided eleven clubs each week covering eight different sporting or other physical activities, including some which are subsidised and provided at a nominal cost to parents. This is a total of 8.25 hours of sporting or other physical activity provided out of school and compares to six clubs covering 6.5 hours in Autumn 2012. There were over 180 filled places in the eleven before and after-school clubs provided in Autumn 2014. Some children take places in more than one club.
We monitor this figure over time and review how successful we are at increasing our participation rates.
As well as this, we are providing PE and sports coaching during curriculum time provided by professional specialist coaches, in addition to PE lessons already coached by our teaching staff. All of our classes receive this specialist provision. You can view our more detailed monitoring data below.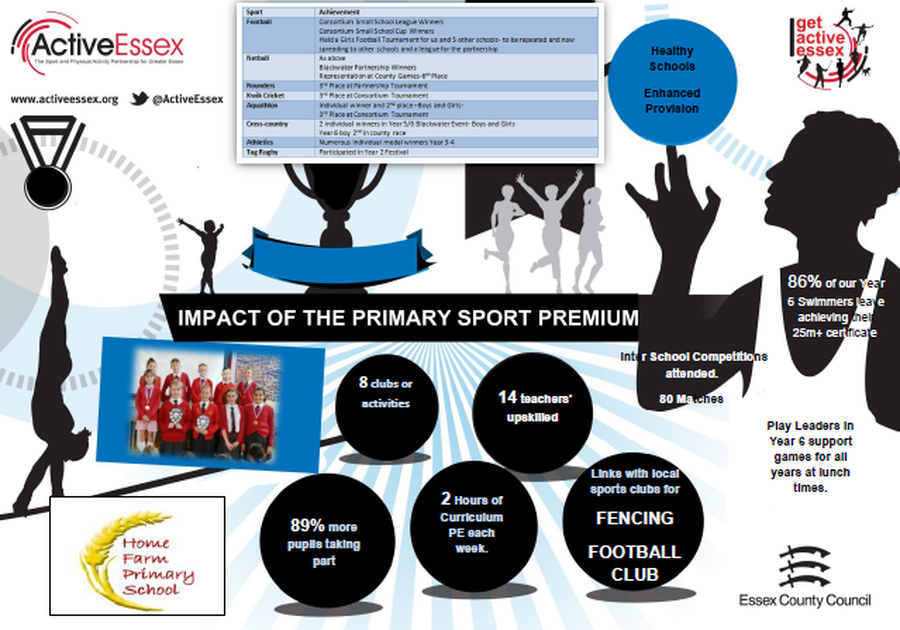 Self-evaluation
We use self-review and evaluation tools to help us to monitor our progress and impact.