Performance information
Performance data 2016
Data from 2016 onwards is based on scaled scores. Year 2 and 6 children sit tests, for which they get a 'raw score' (the number of marks). The Standards and Testing Agency then provide us with a formula to turn these into 'scaled scores' (that can change each year based upon how well the country does in each test). If a child has a 'score' of 100 or more, they have achieved the national standard and if they are below it, then they are 'working towards' that standard.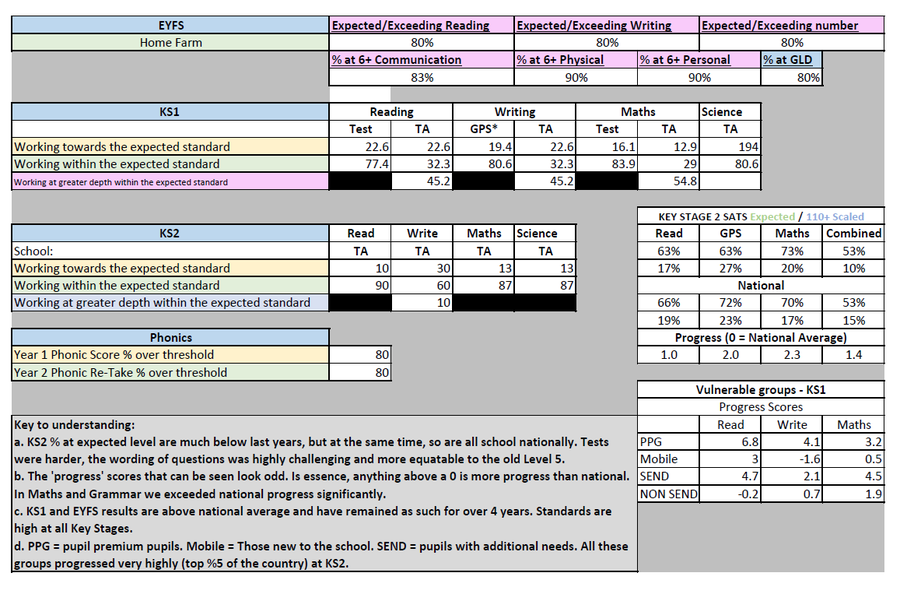 Pre-2016 performance data
Prior to 2016, Years 2 and 6 were assessed in terms of curriculum levels. You can see details of pre-2016 performance data below.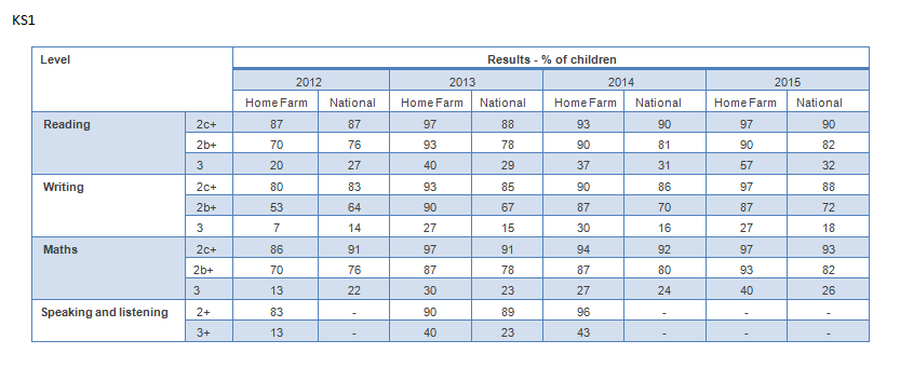 Key Stage 2
Level 4 is currently the average expectation at the end of Year 6. We aim to achieve more by encouraging learning to hit the upper tier of Level 5 with a small group of very able pupils who can cope with some of the Key Stage 3 curriculum, seen in the Level 6 results.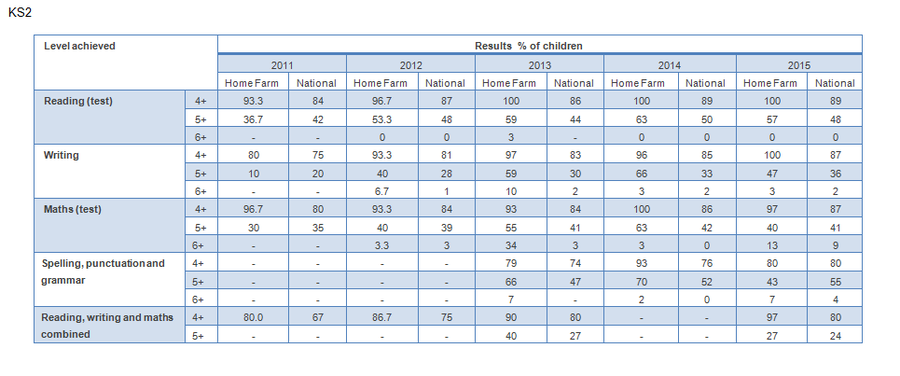 Proportion of pupils making expected progress
Children are expected to make at least two levels of progress from Key Stage 1. So for example, if a child is a level 2 at the end of Year 2, the expectation is that they are a level 4 by the end of Year 6. If a child makes more than two levels, they are deemed to be exceeding expected progress. In 2015, 40% of children exceeded progress expectations in reading, 53% in writing and 30% exceeded progress expectations in Maths.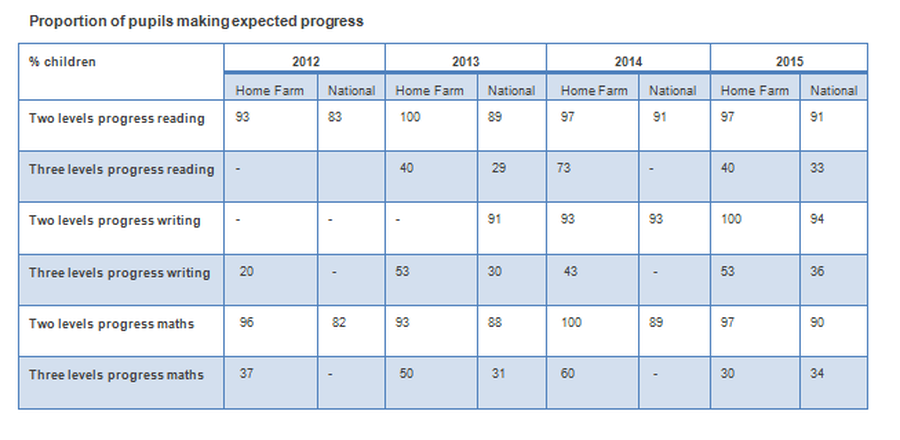 Early Years Foundation Stage data
In 2012, a new curriculum for the Early Years Foundation Stage was created. At Home Farm, our pupils consistently do well during their first year with us and consequently are ready for the National Curriculum to begin in Year 1. Many pupils are ready for this earlier and therefore we take the chance to help these pupils develop their skills early whilst still in the Early Years classroom. The following table shows the key statistics for each year's EYFS profile.

Phonics
In 2012 a new phonic check was put in place to assess pupils' ability with synthetic phonics (think "Mmmmm" for the letter "M" rather than "Mu"). This check is part real words that pupils can sound out and part 'alien' words that pupils must use their phonics skills to decode unfamiliar words. Again, Home Farm has consistently achieved higher than or matched the national average, even as it has risen over time.